In September, I traveled to Perpignan, France where my project "The Battle Within: Sexual Violence in America's Military" was going to be exhibited at the [Visa Pour L'Image photojournalism festival.](http://www.visapourlimage.com/exhibition/6201.do)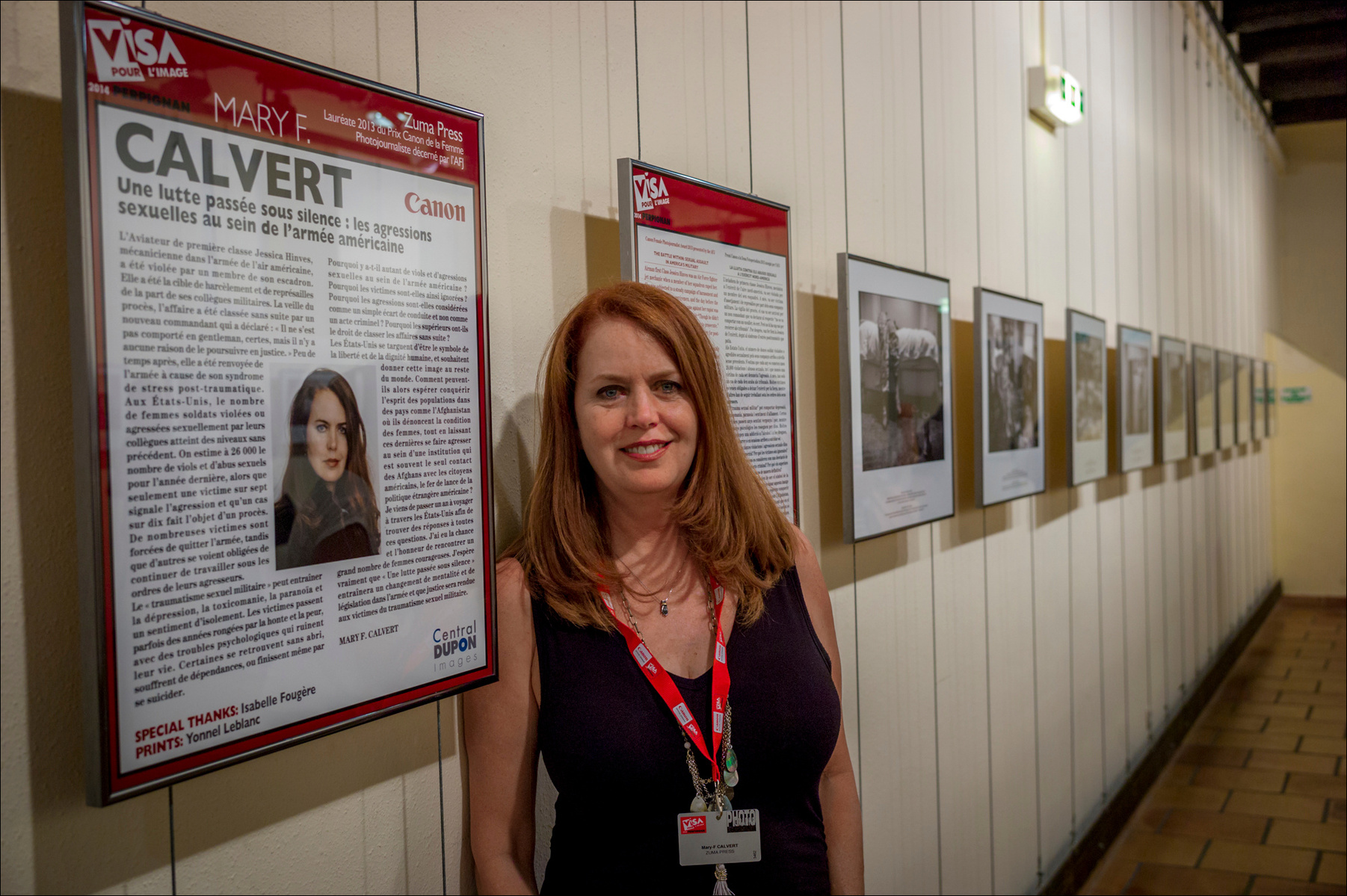 On the way to the airport, I received a phone call from Whitney Johnson, Director of Photography at New Yorker magazine who asked me if it was a good time to talk. I told her I was on my way to France and she asked me if I was "at the airport or in the cab?" I chuckled and said "In the cab." My 'cabdriver' was my next door neighbor Tim and as we pulled into a parking spot at "Dunkin Donuts" before our drive to Dulles International Airport, I was stunned when Whitney told me that I was the 2014 recipient of the Alexia Foundation Women's Initiative Grant for my proposal: "Missing in Action: Homeless Female Veterans." Wow, I was astounded and thrilled and pretty much blown away. During the long flights I pondered many things: my exhibit at Visa Pour L'Image, winning the grant, and the excitement of having the support to continue my project of women suffering from military sexual trauma.
In Perpignan, 40 photographs from my project "The Battle Within: Sexual Violence in America's Military" hung in the lovely Salvador Dali room at the Convent du Minimes.
That first day, I felt very moved as I stood in the room gazing at the images of all the women and men who courageously shared their stories with me. I spent a lot of time in the gallery and had the pleasure of meeting many wonderful, concerned visitors. One morning I did a gallery talk with a terrific group of students from the Danish School of Photography. The Visa folks kept me busy with interviews, meetings and a luncheon for staff and exhibitors. Between all of this excitement, I would steal away to have a quick peek at email and the Alexia Foundation's announcement of the grant win. I also received lots of congratulatory tweets, emails and Facebook posts.
Later in the week, a French woman came up to me with tears in her eyes and told me she had no idea that such a thing was happening in America's military and wondered if the same thing was happening in the French military.
It really was the experience of a lifetime and at the end of my week in Perpignan, I spent a few glorious days eating and drinking my way across the Piedmont region of Italy with some very dear friends. Back home in Annapolis, I am still wading through piles on my desk and catching up on assignment requests and emails. I am grateful to the entire Visa family and I humbly thank the Alexia Foundation as I begin my project "Missing in Action: Homeless Female Veterans."