A few months ago, I had the extreme pleasure of photographing Aaron Maybin for ESPN, The Magazine's Heroes Issue. You may remember Aaron from his other life as an All-America linebacker at Penn State University before he began his NFL career with the Buffalo Bills and the New York Jets. Aaron grew up with anger and violence not only accepted on the football field, but also as a fact of life in his neighborhood. Yet throughout, Aaron has maintained the heart of an artist, expressing beauty and the power of spirit with his hands, heart and mind as an alternative to the hostility and frustration of everyday life.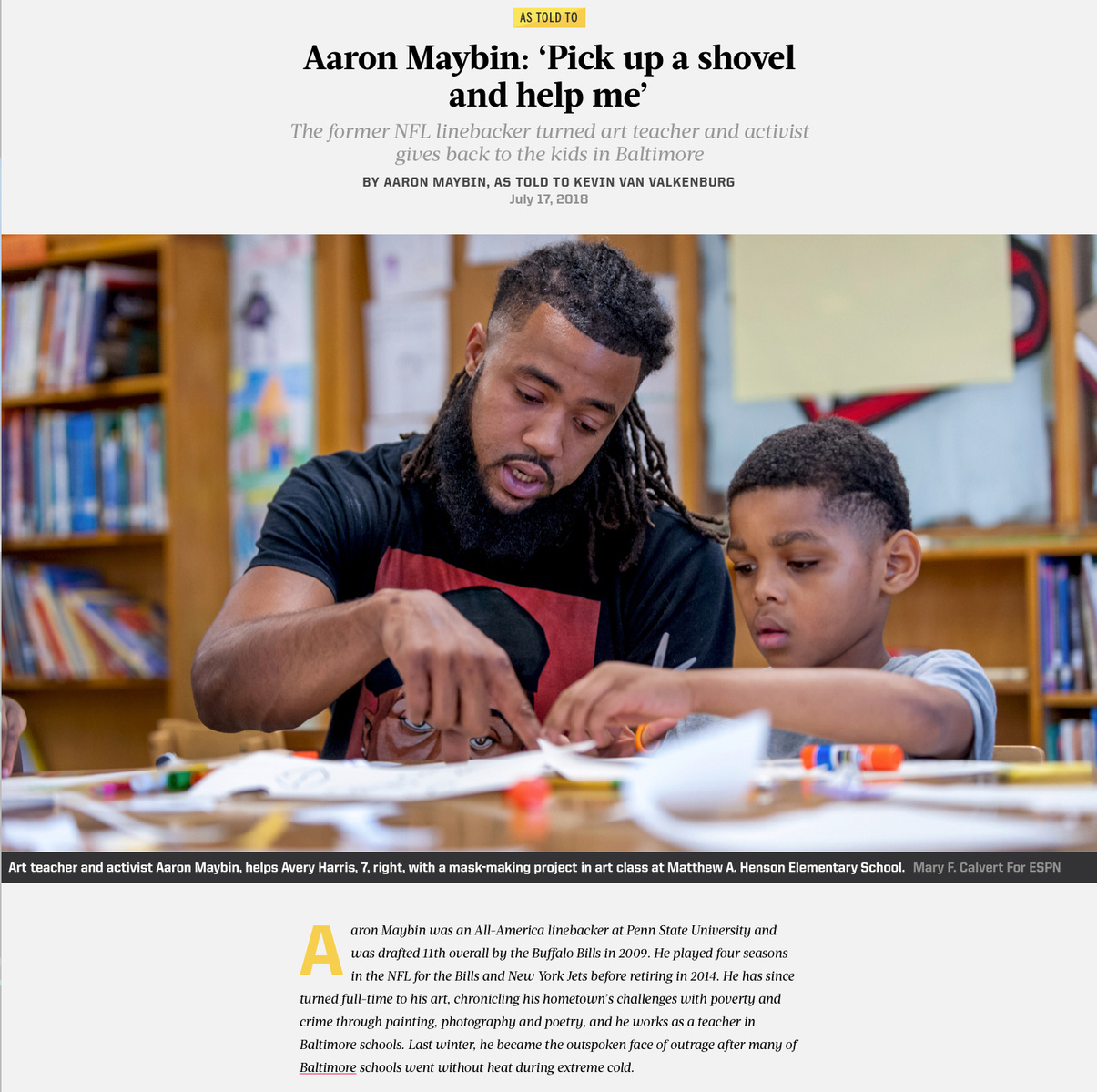 Since his retirement from football in 2014, Aaron has been back in West Baltimore, teaching a creative arts and literacy class at a school just a few blocks from where he grew up. He spends his day challenging and inspiring kids to explore the emotions and experiences associated with their environment through the art they create, books they read and stories they write.
If there were a mayor of Matthew A. Henson Elementary School, Aaron would be it. He engages everyone he meets; teachers, students, parents and the guys who work at the little store across the street.
He is the teacher, artist and friend that some of these kids will thank someday while giving a speech.
I spent the day with Aaron and witnessed first hand the connection he has with his students.In art class he helped seven-year-old Kamiyah Beckles with her picture of a princess and Avery Harris, 7, with a mask-making project.
After school at "Gallery Night," he and his students proudly hung the masks and drawings they created in class.
Aaron was fully present, hanging out with the kids, listening, talking and relating to the students on an intimate level that only those who come from the same place can share.
This artist, activist and father shrugs off the label of "hero". He insists he is just a guy from the neighborhood who cares enough to motivate those around him to reject apathy, reach their greatest potential and then help others to reach theirs.
Aaron says it best: "I want more people to feel like this is all of our responsibility… when you're doing it in a way where you just put one person up on a pedestal, people tend to look up at that person in awe, and then do nothing themselves. Instead of praising somebody for digging this great hole, pick up a shovel. I don't want praise for digging a hole. I want you to pick up a shovel and help me."